In the land of garment decorating, few applications can look as nice as embroidery. That textile on textile appearance elevates a work shirt, and is essential for decorating on hats, or jackets. Embroidery has unique parameters that you must be mindful of when choosing to embroider on your garments.
Thread Thickness
All decoration methods have their limitations. One of the biggest issues is thread thickness. When you print on paper, you can print extremely fine. Depending on the printer, you can achieve 0.1pt (0.035mm wide which is 3.5 times smaller than the SMALLEST ANT). That's amazing! Most screenprinting can go as fine as 1pt (0.35mm).
Embroidery isn't as agile. Textiles limit your thickness based on the thread's weight. A thread's weight defines how many piles (smaller twists of thread) create the embroidery thread. In general, anything that is smaller than 1.5pts is a detail that may be too fine for an embroidery file to reproduce. AND anything that is under 2pts is likely to be recreated with a single line of stitches known as a run stitch.
Any text that has a height under 0.25″ (6.35mm) runs the risk of sewing poorly. From a distance the *idea* of the text might be legible, but up close it can quickly turn into a hot thread mess. Nobody likes hot thread messes. Keep this in mind when you are looking at your artwork or logo, and how large you might have to embroider elements so they sew out well.
Thread Types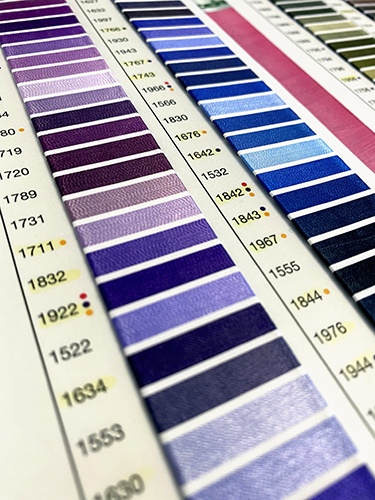 There are a multitude of thread types in the industry. While cotton thread is the most traditional, we use polyneon thread for a couple of very important reasons.
Polyneon thread holds up better in the wash, and general wear and tear.
The colors retain their hue better and longer.
The thread is stronger, sturdier.
Works on various garment types and textiles.
thread card
Thread Colors
Embroidery has a smaller amount of colors that you can choose from. In order to match your logo's colors as close to the correct thread color as possible, we use a thread color book. This book provides sample swatches of available thread colors. Most of these books also include a recommended PMS (Pantone Matching System) color. If you don't know much about the PMS system, check out our previous blog post: How Printers Match Colors.
Still, a human eye is necessary to make sure your logo colors match! Because of Polyneon's shine, the recommended PMS number doesn't always match as close as we'd like. And not every color matches to a thread, so it is up to us to find the closest match for your logo. We will always let you know what we think is the closest, most accurate match to your logo's PMS colors.
Thread Color Limitations
If your logo has a gradient, know that using thread to create that gradient is going to be tricky. If your logo has one, either prepare a solid color version of your logo, or your embroidery cost will increase because of the amount of stitches it will take to attempt to simulate your gradient. While possible, it will not be nearly as clean as a screenprint, or a digital vinyl heatpress. And that all comes back to the thread weight, the minimum thickness available with thread, and the limited color palette.
Color Flexibility


Something that is supremely beneficial with embroidery is that you are able to switch out thread colors to accommodate your garment colors, and there is no additional fee!
Let's say your logo's color is royal blue. If you screenprint your logo onto a polo, but you have white AND royal blue polos, you will have to pay for a screenwash fee to change the ink color to something that will show up on the royal blue polos. You may also incur additional fees because a white ink will need to go over the colored garment before you can put any other ink color down.
But with EMBROIDERY, you just switch out the thread color and there is no additional cost! Since each garment is set-up on its own separate embroidery machine (known as a head), all of the threads are entirely independent to that head. So we can embroidery a multitude of different colored polo shirts, with different thread colors on each polo!
Feature Photo by Agto Nugroho on Unsplash