Screen Printing
Artwork Charges and Approval
The first hour of artwork is free with a placed order and then $100.00 per hour thereafter (billed in 30 minute increments) . Screaming Squeegee will inform you if additional art time is needed to process your order. If you are not a graphic artist or have your artwork on paper we can recreate it for you. Squeegee retains all rights to originally created artwork, unless otherwise agreed upon.
We will e-mail you an artwork proof for approval before printing your order. When you receive this e-mail, please respond promptly, denoting any changes or if it is ready to print. We will NOT proceed with your order until we get YOUR approval.
Accepted File Types
For best results create your art as vector art in Adobe Illustrator and save as an Adobe Illustrator (.AI) file. Please be sure to convert all text to outlines/curves. Please note: placing a low resolution image from the internet into Illustrator will not make the artwork "vector". If you are unsure if your file is acceptable, we will be happy to review it with you.
Vector Artwork Files


Vector artwork files end with .ai and.eps.

All type that has been set must be converted to outlines (curves). If future changes to the text will be necessary, the original font file must be supplied with the art file. All design elements in the file must meet minimums for line thickness- at least 1pt. Failure to do so may compromise the final imprint quality. If the vector file contains any linked (placed) raster images, these images must meet Screaming Squeegee's minimum requirement for resolution when (300ppi) rendered at 100% actual imprint size and must be submitted with the original vector file. Please convert all colors in your artwork to spot color and label the swatches with PMS(Pantone® Matching System) numbers. By utilizing the Pantone® Matching System, we are able to communicate color clearly.

Raster Artwork Files





Raster artwork files end with .psd, .tiff, and possibly .jpeg.

All Raster elements and art files will be printed at the size that is submitted or smaller. Artwork must be sized to 100% or larger than the actual imprint size. All Raster images must meet Screaming Squeegee's minimum resolution 300ppi (pixels-per-inch) when rendered at the actual imprint size. All raster elements must be submitted in the proper color space (RGB or CMYK). We recommend full color graphics in RGB colorspace. If your artwork was created in CMYK colorspace, do not convert to RGB color.

Adobe Acrobat Files


Adobe Acrobat files end with .pdf.

PDF files created from vector files must retain the editing capabilities of the program that was used to create them. PDF files that contain raster and vector files must meet the minimum requirements for raster and vector art files as outlined by Screaming Squeegee.

Other file formats and programs


Only professional software packages may be used to produce artwork. Although programs like Microsoft Word and Publisher are useful tools, they are not capable of producing art files of a quality necessary for imprinting purposes. In certain cases we may be able to use a high resolution jpg file for reference to recreate your artwork, but please be aware that you may be charged art time if the recreation exceeds 1 hour.
Print Sizing & Placement on Apparel
We generally size artwork to fit within a 11″ w x 11″ h. imprint area. Artwork sized up to 14″ is considered standard size, however we may have to scale down accordingly depending on the cut and style of the garment. Any art requested to be larger than 14″ is considered oversize and a 25% upcharge will apply, our max imprint size is 15″ w x 18″ h. For youth shirts size S – XL our max size imprint is 9 " w x 9 " h, and for youth XS the max imprint is 8″ w x 10″ h for most styles. We can print most locations on a shirt but we cannot print over seams, if you have any questions in regards to sizing your art for a specific imprint location please contact us.
We can print more or less anywhere on a shirt. Pictured below are the most popular locations.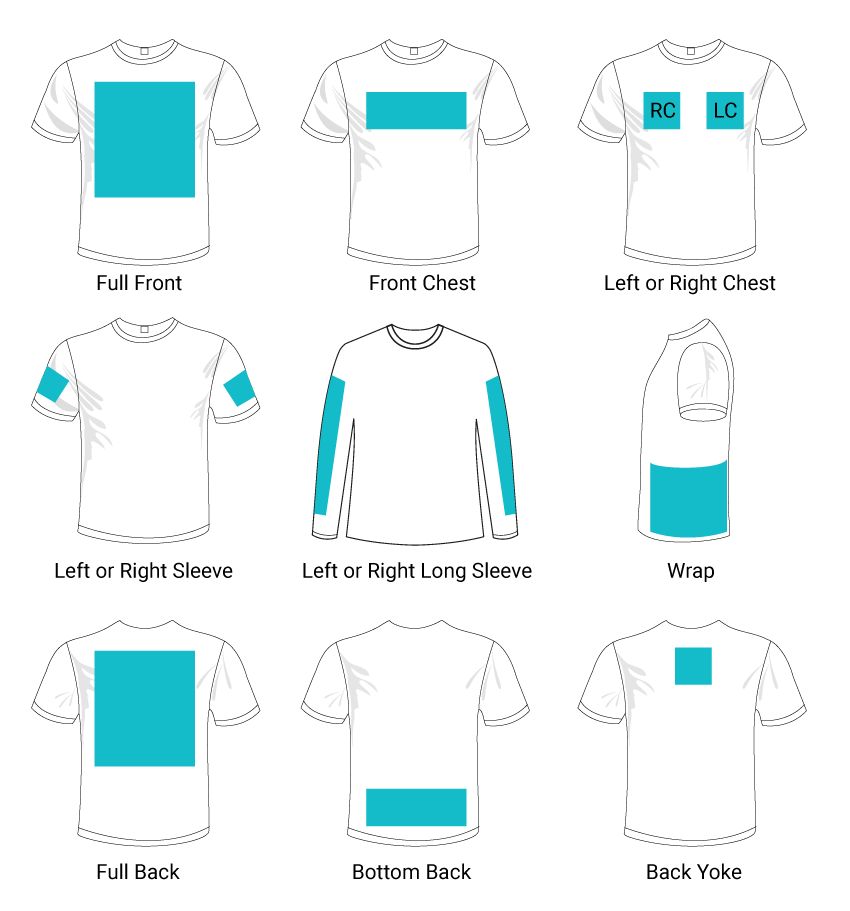 Standard Imprint Colors
When creating artwork, it can be difficult to decide what colors you want to print! We use the Industry Standard Pantone Matching System to make sure the color you are looking for is the color that we print.
Don't worry if you aren't familiar with the Pantone System. We have a set of stock colors you can refer to for printing. Keep in mind that different digital screens will display these colors a little differently. So we've included the Pantone number as well (coated colors) to help you get a good idea.
Also note that some promotional products will not print all of these colors, and we'll match as close as possible to your logo or requested colors.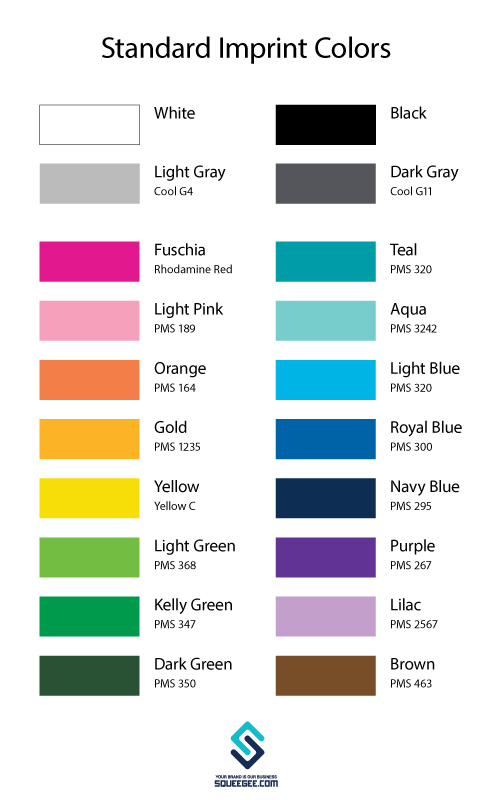 FAQ
Below are some frequently asked questions. If your question isn't answered below, or you have additional questions, please contact us.
Why do the colors on my proof look different from the colors I requested?
ScreamingSqueegee
2020-09-23T23:18:12+00:00
Colors viewed in the art proof will vary depending on the monitors user settings. You cannot trust the colors viewed on a monitor or from a printed page. Using the Pantone color book is the best way to communicate color. We cannot be held responsible for colors not assigned a pantone swatch. Color and Pantone matching on textiles is not exact or guaranteed although we typically are able to print colors very close, if not perfectly matched. There may be a reasonable variation in color due to a number of factors.