Cooking is great. And it's been fun revisiting old recipes and pretending that my pantry cooking skills can compete with the splendor of those in the BonApettite Kitchen. But the cold, hard truth, is that I can only make mac&cheese from scratch and homemade bread so many times before I need to do something different.
So my husband and I have committed to ordering take-out at least once a week from a local restaurant. The whole affair has replaced our weekly date nights, and we get excited supporting our local businesses.
And we've seen some GREAT ideas our local restaurants are doing with their take-out and those smart design decisions paired with amazing food have definitely impacted whether we order a second time (or a third, forth, fifth, etc…).
We're Open Signs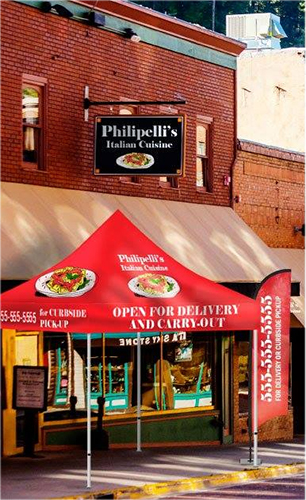 This sounds like a no brainer, until you realize how many restaurants have no signage on their windows saying they're open. And while we're only driving outside for essentials such as groceries, seeing those signs reminds us 'Hey! They're open, let's try them this time.' A couple vinyl signs saying your open for Takeout or To-go are great indicators.
And soon when counties begin to allow in-dinning again, it will be just as important to let the public know if you are taking reservations for in-house seating or if your dining room is now open.
Eco Friendly + Reusable Containers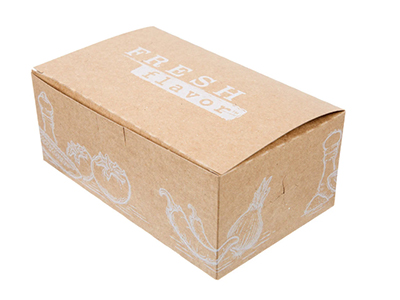 More take out means more potential waste. Using eco-friendly boxes shows two things. 1) you care about the additional food waste this to-go lifestyle manufactures. 2)Eco-friendly boxes are also reheatable. So instead of releasing noxious styrofoam chemicals into the air, AND your food. You're telling your customers that you care about their eating experience as well.
Labels for Containers

There is nothing worse than getting a container, and for some reason it opened in transport. Using a basic label on your containers helps keep them closed, and it provides a presentation that really makes opening your food special.
Specialty Drink Containers

The ABC in California approved the sale of alcoholic drinks to-go as long as it is purchased with food. With ready-to-drink cocktails already on the rise back in 2019, this opens up a lot of possibilities for your customers. Since alcohol beverages are all big ticket sales, it is important that the drinking experience is positive and special for your to-go customer. Otherwise, they might not purchase a drink next time.
My favorite solution has been a tamper proof bottle with a specialty label stating what's in the bottle! It lets me store the bottle (since it was 2 drinks), and drink the rest later. This made my drink special, and now I make sure to order a drink whenever we order from the restaurant because it feels safe and professional.
Paper Bags, or Reusable Bags

Paper Bags with handles adds a nicer presentation to your order. A reusable bag is even better! Consider having your logo printed onto the bag, or use a label to close the top of the bag to really finish off the delivery so it looks more like a package.
Thank You Cards

Saying thank you goes a long way. One of the coolest things we saw in our bag was a 'Thank you for supporting us!' postcard. This is also a great opportunity to try and promote special meal deals you might have such as family dinners or take-out happy hours that might've been missed. And the postcard is a great reminder from people to order from you again!
Photo by Caleb Oquendo from Pexels