Face masks (or face coverings) are in high demand as we all adjust to the spread of the COVID19 Pandemic. Places like Los Angeles are even making masks mandatory while they remove certain levels of shelter-in-place. This will put a strain the current supply and demand for safe masks. And with different states, counties, and cities citing their own safety regulations, and in different shelter-in-place stages, it can be really difficult to navigate the rules and regulations for your business and what reopening your doors, or having your employees return to work will really look like.
While we can't wave a magic wand and have everything make sense, we CAN give you recommendations on some trusted suppliers for face masks. And trust me, we have seen a large surge of suppliers announcing how they have converted part of their factories to accommodate the rising need. Fortunately, Screaming Squeegee works with a number of trusted domestic suppliers to address these needs. Check out the list below for various options! We've put together a quick pros and cons list for each option to provide you the information needed to guide you towards the best option for your specific needs.
Disposable Masks

We've seen a few people walking around with these masks. And we can definitely get them into your hands. They can be the quickest mask to get a hold of, but remember that these disposable masks are just that. Disposable, which means single use!
PROS
Most affordable
Various levels of filtration options
quick turn around
CONS
High quantity minimums
Not reusable
Limited Made in the USA options
Blank Cloth Masks

N95 masks are meant for those working in hospitals, or consistently around COVID19 infected patients. For the rest of us, an N95 mask isn't as necessary. So cloth masks have really exploded in versatility and use. If you are looking for something sturdier, that will be able to handle multiple washes, then a cloth mask is definitely the way to go. Some of our suppliers are even bringing in solid colors so you are able to choose between more than white or black!
PROS
Reusable/Washable
Low quantity minimums
Made in the USA Options
Quick Turn around
Soft and flexible
CONS
Higher price point
Solid colors only
Screen Printed/Heat Press Cloth Masks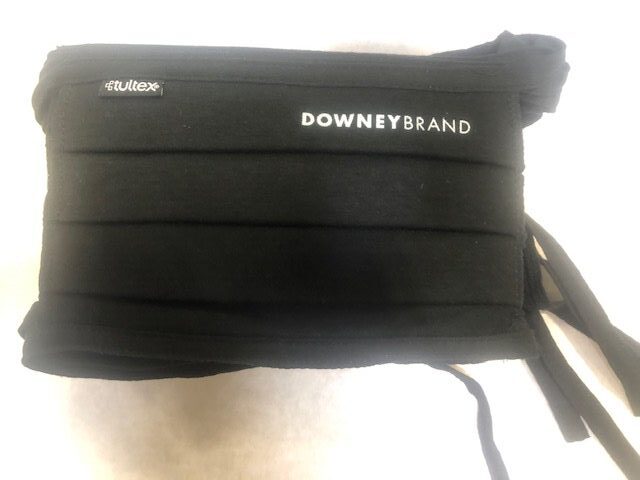 Suppose you want to advertise your business, or make the mask part of your employees uniform? Printing on the mask is a great way to get a message, or your branding out there! We've had clients print their logo, and others print inspirational works on their masks to give our to their customers.
PROS
Reusable/Washable
Low quantity minimums
Made in the USA Options
Screenprint or Heatpress
Soft and flexible
CONS
Higher price point
Longer Turn
Sublimated Cloth Masks
Now let's say you want to go ALL OUT. You don't want a single color, you don't want your logo small on half the mask. You want a mask that says YOU, or YOUR BUSINESS. That brings a brightness and joy. Maybe you want your logo turned into a pattern? Sublimation is a specialty type of printing that will print over the entire mask BEFORE it is constructed. That way, your artwork will cover the whole fabric! And you aren't just limited to face masks. Maybe you want to change it up a bit and get a Buff instead! (It's like a sock. But for your neck and your face. Calling it a neck sock would be weird. Don't call them that.)
PROS
Reusable/Washable
Low quantity minimums
Made in the USA Options
Sublimation allows print over all fabric
Soft and flexible
CONS
Higher price point
Longer Turn
non-cotton mask
Making your Own
When you only need a single mask, or you need a mask right away, you can always make your own! Thousands of crafters have taken to social media showing how we can make our own masks. From using a Crown Royale bag, to creating specialty patterns for different sized faces! If you do decide to go the self-creation route, make sure you're using the right fabric. Otherwise, your mask won't be that effective.
Consider this Face Mask Kit that will provide you with all the base material. And it also comes with instructions!
Making a Mask with the Port Authority Mask Kit from Company Casuals on Vimeo.
Hopefully you've found this informative and useful and stay safe out there. Feel free to contact us if you have any questions.